Members Are Better Together
We're sure you're already a super creative, insight driven, award-winning agency. Your success can be amplified further by joining and participating in AMIN Worldwide.
Benefits Of Becoming A Member
Get More Value
Independent agencies don't try to house everybody under one roof. Unlike big multi-nationals, we don't carry hefty operational expenses. This means we can customize our teams to the right size, with the right skills. Being collaborative with each other makes us cost-competitive for clients.
Grow Big By Thinking Smaller
While brands can collect more customer intelligence than ever before, this data is only as valuable as an agency's ability to translate it into a strong strategy. Reaching today's consumers takes a personal approach – a return to one-on-one relationships. AMIN Worldwide members know how to reach audiences on a hyper-local level.
Our Knowledge Base
B2B and B2C companies need experts who understand cultural relevance. Our member firms are more than dots on a map. We live and work in our native countries, and we can help clients and members alike in navigating the nuances. We tap each other's market wisdom and industry experience.
Connect Allies
AMIN is a network in the truest sense. Our member agencies actually know each other, and we collaborate together on new/shared business opportunities. We meet and mingle at conferences and other learning events. Our employees also have professional groups to share knowledge and support each other in their agency roles.
Retention of your independence.
Trusted knowledge sharing.
Global and local industry expertise.
Revenue growth through your new business.
Access to benchmarking data from across the network.
Professional development of your employees.
"One of our clients is Quick Quack Car Wash. They recently spoke to us about their desire to evaluate growth opportunities in the Latinx market. We knew we didn't have this level of expertise in-house, but knew of Marca from prior peer calls, business meetings and conferences inside of AMIN. This foundation of familiarity and collaboration really helped as we hit the ground running. The client is thrilled. But don't take my word for it; here are just a few things she has had to say…"
Tal Harry, Partner and CEO
MāHK Advertising, Salt Lake City Utah, USA
"The synergy between MāHK and Marca has been better than I could have imagined. I feel like we are all on one big team. We have been able to streamline our research, creative and advertising tactics while Marca has been able to put the right spin on these items to connect with the Latino community specifically. We feel well supported by both organizations and are lucky to have them as part of the Quick Quack family! We don't feel like our advertising efforts would be as successful without this partnership."
Courtney Hardy, Senior Marketing Leader
Marca Miami
Become A Member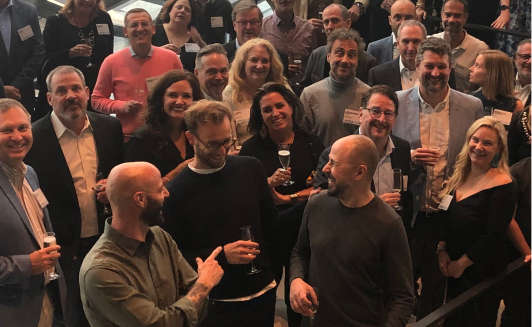 Our Story
The Advertising & Marketing Independent Network (AMIN) Worldwide is an alliance of over 50 independent marketing agencies, packed with award-winning talent and experience, across the Americas, Europe, Africa, the Middle East and Asia Pacific. We first put our heads together back in 1932 and have been expanding the reach of our members ever since.