4 tips for digital marketing during COVID-19
Many companies are still trying to wrap their heads around how they're going to deal with social distancing and going into lockdown, while contending with revenue declines and rapid business challenges. However, the messages you are sending to your customers at this time are also extremely important.
Start by taking a look at all the content you already have scheduled and in the pipeline. Consider everything from automated emails and/or SMS messages, social media content, website pop-ups, etc. When reviewing this and planning additional content for the next few months, have the following considerations in mind.
1. Keep things pointed
The first thing to keep in mind is what's needed right now. What do people really need to know, what are they looking for, what do they want to understand in this changing environment? Keep this in mind in all of your communications – while some announcements may be really important to your business internally, they may not contribute value to people with many other things on their minds.
2. How can you help?
Are there ways in which your business can look to provide support or assistance? Maybe there are practical tips and advice you can give for practicing safety and wellbeing. What knowledge and skills do you have that you can share with your community to help them navigate these unpredictable times? Your focus should be on positive, helpful information that relates to the situations your customers are facing.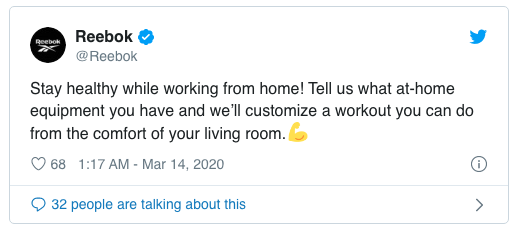 3. Consider the context
Any emails or social media posts you send out will be amidst hundreds of communications around COVID -19. Consider whether your message could come across as inconsiderate or useless in this context. You don't want to waste anyone's time. If you don't have anything useful or educational to say then consider not saying anything at all.
4. Repurpose with purpose
If your content creation budget is limited, take a look at your top performing content and user-generated content from the last twelve months. Can you repurpose any of this while adding relevancy to the current situation?
With people feeling more isolated than ever, they're looking to their online communities for comfort and support. These are unprecedented times, but we are all facing them together. It's those brands that provide this support that come out of this with more loyalty and trust among their follower base.
Don't hesitate to reach out to our Digital Manager, Madeleine, for:
Advice on quick wins during this crisis
A free consult on your digital content plan
Importantly, a listening ear for those who need it